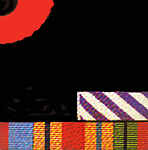 The Post War Dream
Your Possible Pasts
One Of The Few
The Hero's Return
The Gunners Dream
Paranoid Eyes
Get Your Filthy Hands Off My Desert
The Fletcher Memorial Home
Southampton Dock
The Final Cut
Not Now John
Two Suns In The Sunset
One of the Few (Waters)

When you're one of the few to land on your feet
What do you do to make ends meet?
Teach.
Make them mad, make them sad, make them add two and two.
Make them me, make them you, make them do what you want them to.
Make them laugh, make them cry, make them lie down and die.

Wenn du einer der wenigen bist, die auf ihre Füße fallen,
Was tust du, damit etwas draus wird?
Lehre sie.
Mach sie wahnsinnig, mach sie traurig, laß sie zwei und zwei zusammenzählen
Mach sie mir gleich, mach sie dir gleich, laß sie nach deinem Willen handeln,
Bring sie zum Lachen, bring sie zum Schreien, bring sie soweit, daß sie in die Knie gehen und sterben.

Deutsche Version von Franziskus